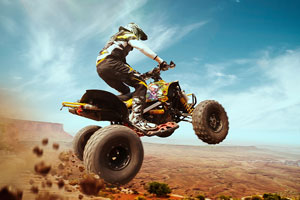 Popping a Wheelie on a Quad Bike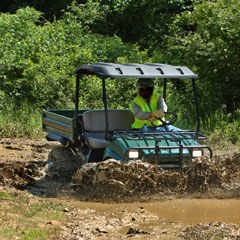 The all-terrain vehicle, or ATV, is a small open vehicle designed for off-road use. Early ATVs were popular with farmers and hunters, and today's ATVs may be classified as sport models or utility models. The sport ATV is a lightweight, 2-wheel-drive vehicle that has a manual transmission and accelerates quickly. The utility ATV is a heavier 4-wheel-drive vehicle that can be used for light hauling.

There are various accessories and add-ons available to improve the performance, appearance, comfort and convenience of your ATV, whether sport or utility. Helmets, goggles, and safety gear are the most important accessories you should invest in. Helmets should be made of lightweight thermoplastic or other materials that meet or exceed Department of Transportation safety standards. A good helmet will also have vents to keep the rider cool and pads to cushion the head. A windshield can make riding more comfortable; it is mounted on your ATV with either drill holes or stainless steel clamps. Throttle extenders allow your ATV to be revved up with your whole palm instead of just your thumb. You can also customize your ATV with gel model handlebars, which relieve shock and fatigue. Rack coolers can keep food and drinks cold for more than twenty hours, and some have convenient carrying straps.

Popular sport ATV accessories include drink holders, halogen trail lights, cell phone and GPS holders, covers, and passenger carts. Utility ATVs may be outfitted with winches, gun racks, and cargo holders. Farmers can accessorize their ATVs with field sprayers, plows, and cultivators, as well as spreaders, blades, and rakes. Landscapers often attach carts, mowers, and power loader accessories to their all-terrain vehicles.
Performance Parts and Accessories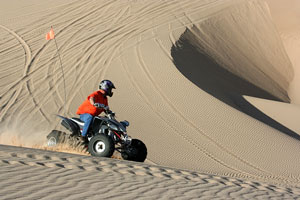 If you find that you've really caught the ATV bug, there are all kinds of ways to upgrade your ATV to increase its performance.

One of the first upgrades ATV owners often make is to change their tires to those of a different size or tread. However, because tire size and tread will affect performance and handling, the owner must upgrade wisely. As a rule of thumb, the heavier and larger the tires are, the more horsepower is required by the ATV. In addition, larger diameter tires result in less power because they impact the ATV's gear ratio. Because of this, many ATV riders consider the size of the engine when they buy tires. For the most part, 250cc ATVs should have tires no larger than 22 inches in diameter, 300-350cc ATVs can handle tires up to 25 inches, 400-450cc ATVs can handle 26-inch tires, while the most powerful 500-600cc machines can handle tires up to 27 inches.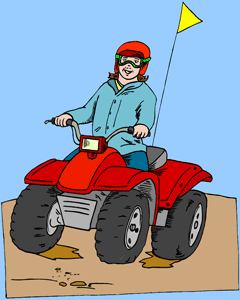 Bolt-on kits with big wheels appeal to ATV riders who want increased traction, flotation, and ground clearance, while those who like to drive their ATVs in the mud can buy tire setups that allow for maximum traction and flotation on the front end. Other kits feature tires designed for farming, allowing an ATV to be used as a tractor.
Hunters, or other riders, who often find themselves in major mud or deep snow may want to outfit their ATV with a lift kit. Lift kits raise the front of the ATV about two inches. If you use your lift kit together with oversized tires, you can raise the front of your ATV up to four inches!
Other performance gear favored by ATV drivers include thumb shifts, that allow you to shift with your thumb instead of with your foot, and thumb savers, a throttle extension designed to take the pressure off your thumb on long rides.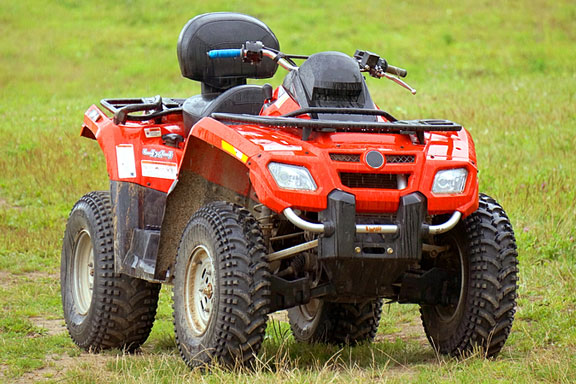 Quad ATV on a Grassy Field
ATV Accessory Suppliers
The suppliers listed below and on the ATV accessory vendors page offer a broad range of OEM and aftermarket ATV parts and ATV accessories. You will find protective gear plus plows, hitches, and trailers for utility ATVs as well as customization products and performance parts for sport ATVs.
ATV Accessories and Parts Manufacturers
ATV Safety and Off-Road Resources
Related ATV and Automotive Sites
---
Copyright 2004-2023 Zeducorp.
All rights reserved.
About Us
.
Contact Us
.
Search
.
For your convenience, certain links will open in new windows.
ATVAccessories.us is a Chosen Sites™ information resource.
ATV Accessories - ATV Parts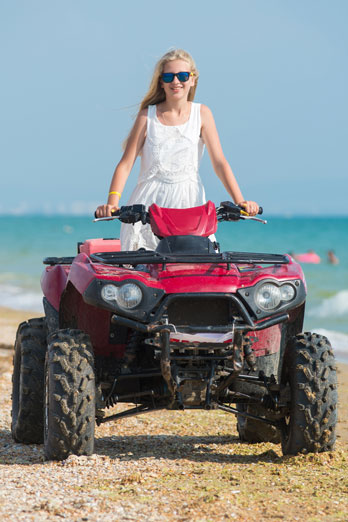 Girl Riding an ATV along a Beach